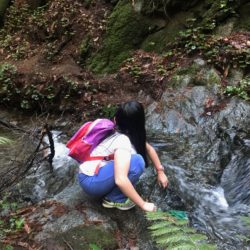 Since the beginning of January, Exploring New Horizons at Sempervirens is now hosting students at our new home at Camp Krem. Seeing groups of students laughing, learning, and exploring, you would never think that anything about Sempervirens has changed.  Program Director Asa "Chert" Deane attributes the success of the smooth transition to the Sempervirens naturalist staff.  "Their teamwork, positivity, and flexibility is the key to providing the same meaningful experience for students that we always have."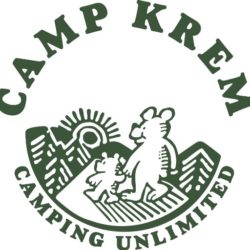 Camp Krem hosts children with developmental disabilities during the summer, and is set up to be very accessible. The facilities are close together, and many teachers who have visited the site with their students have commented that the closeness of the cabins to the bathrooms feels safe and saves transition time.
While the facilities at the camp are compact, the views are sweeping and spacious.  Students look out on a panorama of lush green mountains and bald granite faces with no trace of buildings, roads, or civilization. Just redwood wilderness. From the dining hall deck, students behold the San Lorenzo Watershed in one sweeping view.  Sempervirens naturalist Goose's student trail group had lunch one afternoon on the deck, and she recalls one student exclaiming, "We've got a reservation for the best seat in the house!" On their way to breakfast , students are greeted by colorful sunrises and mountains shrouded in blankets of fog.  On night hikes, students watch the moon rise brightly over the horizon, and the mountain top is great for star gazing and learning constellations.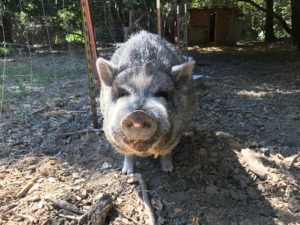 Our Sempervirens animal friends are happy in their new home. Gumdrop the potbellied pig shares a sunny enclosure in the middle of camp with Joni and Gilly the goats. They moved in next to the Camp Krem resident pig, Piggy Smalls, who weighs in at no less than 200 pounds.  Piggy Smalls is a dear new friend to the students at Sempervirens; he ruts around during free time and gets petted.
Students get to know the redwood forest and visit the Manzanita chaparral.  They smell the vanilla aroma of Ponderosa Pine bark, a tree usually found in the Sierras that is very uncommon to the Santa Cruz Mountains.  Students also love exploring the creek that flows through camp, and discovering the cascading waterfall.  Membership to the Hobbit Club involves walking though the cold babbling creek, and Sempervirens naturalist Harbor said that his trail group, after joining the Hobbit Club, declared their time at the creek is the most fun that they ever had outdoors.