Sempervirens Staff
The Naturalist staff at Exploring New Horizons Outdoor Schools have extensive training and teaching experience in the Outdoor Education field. They have a passion for teaching children in the outdoors and a commitment to creating a learning atmosphere that is fun, safe, educational, and inclusive of all learning styles. All staff members are certified in both First Aid and CPR.
---
---
Rhubarb She/Her – Assistant Director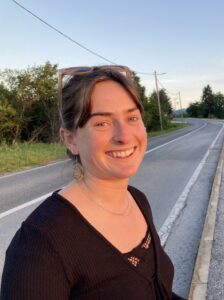 Rhubarb has been involved in outdoor education since 2015 when she began volunteering as a high school leader with Multnomah County outdoor school in Oregon. There, she taught water science to 6th graders on the banks of the Sandy River. Since then she has spent many summers working as a summer camp counselor on an island off the coast of British Columbia. During college she sailed with Sea Education Association aboard a 134ft tall ship in the Caribbean conducting oceanographic and natural history research. Rhubarb worked as a naturalist at San Mateo Outdoor Education during the 2021-2022 school year. In her free time Rhubarb loves to play ultimate frisbee, ride her bike, and play music with friends.
---
Indigo She/Her – Health Care Supervisor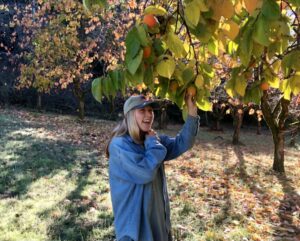 Indigo grew up in San Mateo, CA surrounded by salt marshes on one side and a windswept coastline on the other. As a kid, her parents brought her to Sequoia during the summertimes. There, she grew connected to the big trees and the feeling of being so small in a forest so big. While she studied Psychology at Tulane University, she spent the summers working in Sequoia National Forest teaching sailing and canoeing to kids. From there, she became a white water rafting guide in the southern Sierras. Teaching kids about whitewater, and exploring the freedom of the river, allowed Indigo to feel the importance of outdoor education as well as conservation. For the last few years, Indigo has loved working in an experiential learning environment at Santa Cruz Montessori School. With a WFR and WEMT under her belt, she is looking forward to keeping ENH a safe and healthy place for all. In her free time you may find her surfing, checking the surf, or maybe even paddling down a river.
---
---
Spore They/Them – Naturalist
---
---
---
---
Hammerhead Shark He/Him – Naturalist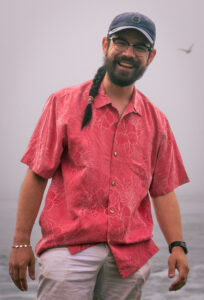 Hammerhead has had a fascination with the natural world ever since he first sat down in front of the TV to watch Steve Irwin's, The Crocodile Hunter. His 5th grade teacher saw that passion and was able to direct it into something concrete by talking about her many years working at an outdoor nature camp. These stories were so influential that he spent every year in high school volunteering at Walden West Science Camp. Those 400 collective volunteer hours landed him his first job as a Recreation Leader in the city of Cupertino's science camp where he learned the many skills involved in science education. He would continue to work in each summer while getting his bachelors of science from the University of California Santa Cruz in marine biology. Today, he has continued to dedicate his life to science education so that he may influence the next generation to care and love for the world just like his 5th grade teacher, naturalists from Cupertino, and the many wonderful professors from UCSC did for him.
---
Juniper She/Her/They/Them – Naturalist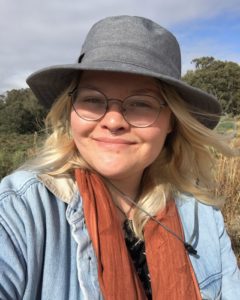 Juniper graduated from UC Santa Barbara in 2020 with a BS in Ecology and Evolution. She is passionate about CA native plants and wildlands management. She was a coordinator for the 5th grade chemistry outreach program, and spent time as a lab assistant in the Mazer Nemophila Lab which studied plant traits  that will help species adapt to a radically changing climate.  Juniper also travelled to Nepal as part of a program by the Blum Center for Poverty Alleviation and Sustainable Development. She is passionate about World Music, and plays darbuka in the Middle Eastern Ensemble and the sitar in the North Indian Sitar Ensemble.

---
Hawk He/Him – Naturalist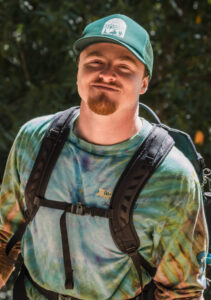 Hawk grew up in sunny San Diego where he explored maritime chaparral, coastal ecosystems,
and pine-filled canyonlands. His passion for environmental stewardship skyrocketed as he
began conducting weekly creek clean ups as an assignment at his community college. During
this time, he witnessed the complexity and sacredness of the biodiversity within his local
watershed. This eventually led him to transfer to California State University Monterey Bay where
he received a BS in Environmental Science. Throughout his college career Hawk interned and
volunteered with multiple organizations helping him obtain knowledge and skills pertaining to
water quality management, invasive species management, and community engagement. Since
then, Hawk has gained experience surveying Oak woodland and endangered habitats
throughout the Willamette Valley in Oregon and began working as a naturalist for Exploring New
Horizons in January of 2022. Laying a foundation of respect, emotional intelligence, and
environmental stewardship are at the forefront of his teaching criteria as he hopes to instill a
passion for spending time out in nature. Outside of camp one could find Hawk surfing,
identifying mushrooms/birds throughout freshwater habitats, jamming out at concerts, and
playing card/board games with his friends and family!
---
 Jade She/Her – Naturalist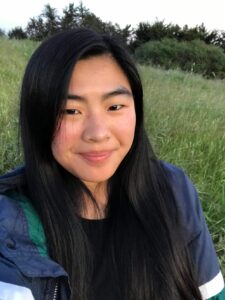 Jade grew up in Santa Cruz surrounded by the beauty of the ocean and redwood forests. In 6th grade, she attended Exploring New Horizons as a camper, and she is thrilled to return as a naturalist! She recently graduated from UC Berkeley with a B.S. in Environmental Science. During this time, she worked on a variety of projects, including interning at a soil science lab, researching sea level rise in the San Francisco Bay Area, and leading a dance team. She is passionate about environmental justice, scientific communication, and developing her skills in cartography. In her free time, Jade loves dancing, reading, and spending time with her family and cats.
---
Panda She/Her – Naturalist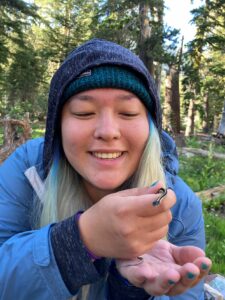 Panda loves exploring in nature with their family and friends, and bonding with people through the simple joys of a sunrise or a rainstorm or the smells of the forest. Learning new things about nature and the relationships among and between plants and animals always amazes Panda. Hiking, camping, and backpacking are some of their favorite things to do outdoors. In their free time Panda loves cooking, painting, and listening to music.