Sempervirens Staff
The Naturalist staff at Exploring New Horizons Outdoor Schools have extensive training and teaching experience in the Outdoor Education field. They have a passion for teaching children in the outdoors and a commitment to creating a learning atmosphere that is fun, safe, educational, and inclusive of all learning styles. All staff members are certified in both First Aid and CPR.
---
Lucas/Delta – Principal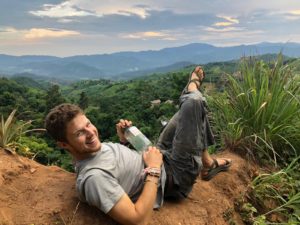 Lucas was born and raised in Seattle, Washington, where he fell in love with the outdoor wonders of the Pacific Northwest and took his first step down the path that would eventually lead him to Exploring New Horizons. After completing a B.A. in Behavioral Neuroscience from the University of San Diego, Lucas has been on a mission to explore, teach and learn. It was only natural then that Lucas fell in love with the redwoods, and has spent the last few years sharing this passion with students at ENH. During the summers, Lucas leads international experiential-education trips for high school and college students. These adventures have taken him everywhere from the bottom of the ocean in Belize to the tops Himalayan peaks in Nepal. Lucas has always believed that nature is the best teacher and the best classroom is without walls. On the weekends, you can find him wandering trails, climbing rocks or reading a book in the sunshine. Lucas is thrilled to be able to continue his educational journey this spring at Redwood Glen.
You can email him at: enhredwoodglen@exploringnewhorizons.org.
---
Samantha/Clover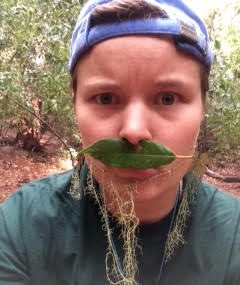 Clover grew up in Western Massachusetts where she gained a long lasting love and appreciation for the outdoors. She pursued her love of teaching and working with kids by earning a degree in General and Special Education at Juniata College. Before joining ENH, Clover worked at Nature's Classroom and multiple camps in New England then at San Mateo County Outdoor Education. When not working, she enjoys creating and listening to music, traveling, spending time outdoors and with friends, reading, playing games, and doing puzzles! Clover is looking forward to sharing adventures and her appreciation for nature with all of the students coming to Outdoor School!
---
Katie/Puddle – Assistant Director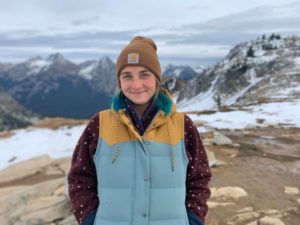 Katie is from the Garden State, right outside the city of Philadelphia. She went to school at Merrimack College just outside of Boston to compete in athletics. While there, she took an opportunity to travel to and hike in Montana for a semester which influenced her decision to move out west to California post graduation. Living in the San Bernardino Mountains in Southern California, she taught outdoor education, and went on hikes and museums in LA. She moved to the central coast where her passion for the outdoors led her to Exploring New Horizons. As a naturalist she was able to share her connection to the earth with students. After ENH she ventured to Washington state to work on a small scale organic farm outside of Seattle. Developing an obsession with planting and growing, she plans on returning to the dirt in the summer, but is looking forward to returning to the redwoods to share the magic of the earth with students again!!!

---
Erin/Blue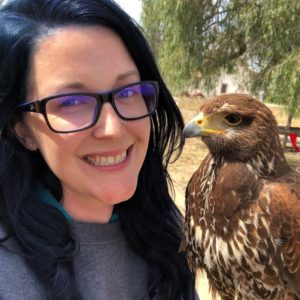 Blue was born and raised in sunny Florida just ten minutes away from the beach, and has actually seen an alligator crawl out of a storm drain. While attending college at the University of Florida (go Gators!), Blue began working with local nesting Northern Mockingbirds, and she hasn't looked back since. Since graduating college Blue has worked all over the eastern United States and Costa Rica as an outdoor educator. Blue first moved to California to work on the central coast, and is excited to explore the redwood forests of the Santa Cruz area!
---
Lauren/Red Fox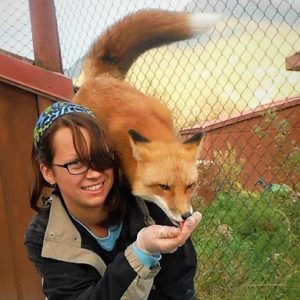 Born and raised in Livermore, California, Red Fox has always had a fascination for the coastline and ocean critters. This made her decision to attend UC Santa Cruz to study Marine Biology easy. Before coming to ENH she spent two summers working at the Alaska Wildlife Conservation Center (AWCC) where she trained with a very charismatic and clever red fox which quickly became her favorite.
Upon returning to California, Red Fox discovered the world of Outdoor Education and dove in head first. She interned for 2 years at San Joaquin Outdoor School, and then spent a year working for YMCA Camp Campbell Outdoor School before arriving at ENH Sempervirens.
When she is not running around looking for new animals to encounter during beach day Red Fox loves working with guests at the Monterey Bay Aquarium, or relaxing with sci-fi films, various sewing, crochet and art projects. She is excited to call the redwoods home and share her excitement with all the incoming students!
---
---