Sempervirens Staff
The Naturalist staff at Exploring New Horizons Outdoor Schools have extensive training and teaching experience in the Outdoor Education field. They have a passion for teaching children in the outdoors and a commitment to creating a learning atmosphere that is fun, safe, educational, and inclusive of all learning styles. All staff members are certified in both First Aid and CPR.
---
Daniel/Dingo – Program Director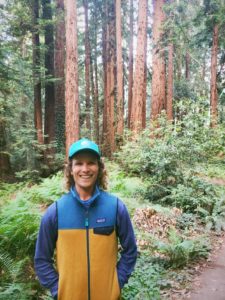 Danny began his Naturalist career in 2012 with Audubon Greenwich in Connecticut. This sparked not just an interest in birding, but also the pursuit of a career in Outdoor Education. From there, Danny spent time working in Maine and Vermont before settling in Santa Cruz, California in 2016. Since moving to California, he has led field study groups through the redwoods, out to the tidepools, and under the giant granite cliffs of Yosemite. During the 2020-21 school year, Danny led ENH's Virtual Science Camp Program as well as the Outdoor Afterschool Program at ENH's new site in Scotts Valley. In his free time he can be found with a guitar, out surfing, or planning the next big adventure. His favorite bird is an osprey and hopes one day he can see the view from the top of an old-growth coastal redwood.
You can email him at: daniel@exploringnewhorizons.org
---
Adele- Naturalist
Adele grew up just over the hill in Palo Alto. Through summer camp at the local Foothills park and trips to the Baylands,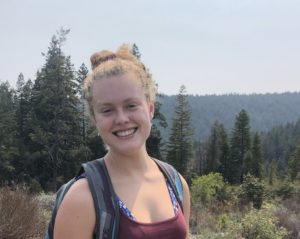 Adele fell in love with the outdoors and scientific discovery. Adele graduated in June 2021 from UC Santa Cruz with a B.S. in Biology and is excited to be working as a Naturalist this season at Exploring New Horizons. Adele has extensive experience working in a wide variety of educational settings ranging from leading science-focused high school study abroad programs in Costa Rica to local musical theater summer camps. During her undergrad, she worked for the Just Slough It project to create educational videos and blogs on scientific topics for all ages. Adele is passionate about making science and the outdoors fun and accessible to everyone. In Adele's free time, you can find her playing the ukulele, surfing, scuba diving, or hiking with friends.
---
Sarah- Naturalist
Sarah was born in Sonoma County, in the small town of Rohnert Park.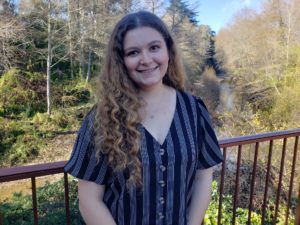 She grew up admiring the local redwood forests, rushing rivers, and dramatic coastlines. Sarah always loved being outdoors, and she especially loved learning about marine science and marine mammals. Her love of the ocean inspired her to attend UC Santa Cruz where she studied Ecology and Evolutionary Biology. During her adventures at UCSC, Sarah taught marine science programs for K-12 field trips for almost three years at the Seymour Center. She has also been an active volunteer with The Marine Mammal Center in Moss Landing, and is passionate about conservation and rescue. In her free time, Sarah enjoys tidepooling, scuba diving, and finding new places to explore. She can't wait to continue learning and exploring in the outdoors with the Exploring New Horizons team! 

---
Madeleine
Madeleine grew up in Santa Cruz and spent her youth enchanted by towering redwoods and foggy coastlines. From an early age, she was drawn to wild places and was inspired to make art and write stories about the natural world. Madeleine continued to make art and received a BFA with a minor in art and ecology from Pacific Northwest College of Art in 2018. While in college, she took part in a month-long backpacking trip/ art class through the Klamath wilderness where she witnessed the impact of an immersive educational experience in nature. She was profoundly changed by this trip, and it launched her into a series of projects that focused on the connections between art, education and ecology. Madeleine is a big fan of collaboration, and her favorite projects involve collective storytelling and generous skill sharing. In her "off time" Madeleine can be found cooking soup for loved ones, hiking, reading, and making ceramics.
---
Grace-Naturalist
Grace was born and raised in northern California surrounded by beautiful waterfalls, creeks, manzanita, and lots of pine trees. Last summer Grace had the opportunity to be a counselor at Mountain Camp, a summer camp in the forest around Lake Tahoe. After having the experience of working and living outside and alongside inspired and goofy kids,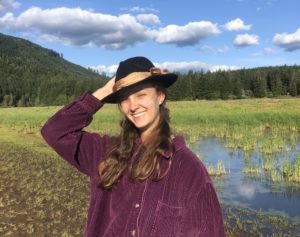 Grace has a hard time imagining any better life! Grace graduated from Cal Poly, SLO in 2019 with a degree in Sociology and Spanish. Shortly after, she dove into working with kids as a Youth Development volunteer with the Peace Corps in Guatemala. It was here that her passion for delving into sustainable practices and sharing knowledge of the natural resources and ecosystems really took off. She is extremely excited to continue down the path of outdoor education and fostering her own and others' sense of wonder at the world around us with ENH. Grace finds immense joy in freshwater swimming, watercoloring, reading anything put in front of her, practicing Hatha yoga and meditation, spending lots of time with her huge family, and being an absolute goof.
---
---