Sempervirens Staff
The Naturalist staff at Exploring New Horizons Outdoor Schools have extensive training and teaching experience in the Outdoor Education field. They have a passion for teaching children in the outdoors and a commitment to creating a learning atmosphere that is fun, safe, educational, and inclusive of all learning styles. All staff members are certified in both First Aid and CPR.
---
Danny/Gnarwal He/Him – Program Director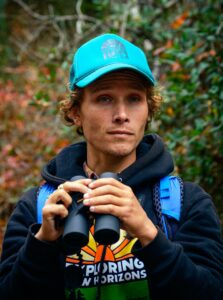 Danny began his Naturalist career in 2012 with Audubon Greenwich in Connecticut. This sparked not just an interest in birding, but also the pursuit of a career in Outdoor Education. From there, Danny spent time working in Maine and Vermont before settling in Santa Cruz, California in 2016. Since moving to California, he has led field study groups through the redwoods, out to the tidepools, and under the giant granite cliffs of Yosemite. During the 2020-21 school year, Danny led ENH's Virtual Science Camp Program as well as the Outdoor Afterschool Program at ENH's new site in Scotts Valley. In his free time he can be found with a guitar, out surfing, or planning the next big adventure. His favorite bird is an osprey and hopes one day he can see the view from the top of an old-growth coastal redwood.
You can email him at: daniel@exploringnewhorizons.org
---
Katherine/Mango She/Her – Assistant Director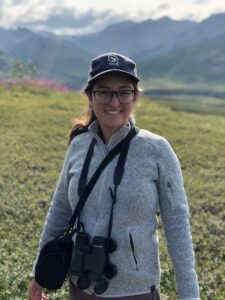 Born and raised near Philadelphia, spent her youth camping and exploring nature with her Venturing Crew. Once she'd grown a wee bit taller, she studied biology at Villanova University and researched hybridizing birds. By working at camps and the Philadelphia Zoo, Katherine found her passion in teaching young people about nature. So, she moved to Fairbanks, Alaska where she and her students learned about spawning salmon, denning bears, and migrating birds through work with Arctic National Wildlife Refuge. In 2020 she herself migrated to warmer weather in California, where she and her students explored beaches and bluffs. There, she also found joy in helping Naturalists grow their skills and confidence, so when life pulled her to Santa Cruz in 2023, she was thrilled to continue this work at Exploring New Horizons. On the weekends, you might spot her backpacking, learning a new dance, or cooking up a mean pot of Sinigang (a rich tamarind stew from the Philippines).
---
Bison He/Him – Healthcare Supervisor

Hi everyone, my name is Bison. I was born and raised in New York city. Nature and hiking wasn't something I explored until I was in college. When I was in college, me and my friends would take day trips just to visit a place that felt natural. When I finished college with a degree in paleontology, I knew that nature was the place I wanted to be.  I started my Naturalist Journey in 2017 with YMCA Greenkill in New York. That naturalist journey took me from New York to California, China, Idaho and back to California. I finally found a home in the redwood forest. With a WFR and more than 6 years of experience giving aid in the backcountry, I am looking forward to keeping ENH students happy, healthy and safe. In my free time, you can find me eating yummy street tacos, rock climbing or enjoying a nice cup of coffee.
---
Juniper She/Her/They/Them – Medic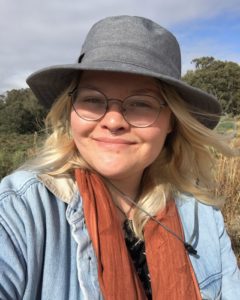 Juniper graduated from UC Santa Barbara in 2020 with a BS in Ecology and Evolution. She is passionate about CA native plants and wildlands management. She was a coordinator for the 5th grade chemistry outreach program, and spent time as a lab assistant in the Mazer Nemophila Lab which studied plant traits  that will help species adapt to a radically changing climate.  Juniper also travelled to Nepal as part of a program by the Blum Center for Poverty Alleviation and Sustainable Development. She is passionate about World Music, and plays darbuka in the Middle Eastern Ensemble and the sitar in the North Indian Sitar Ensemble.
---

Hawk He/Him – Garden Coordinator
Hawk grew up in sunny San Diego where he explored maritime chaparral, coastal ecosystems, and pine-filled canyonlands. His passion for environmental stewardship skyrocketed as he began conducting weekly creek clean ups as an assignment at his community college. During this time, he witnessed the complexity and sacredness of the biodiversity within his local watershed. This eventually led him to transfer to California State University Monterey Bay where he received a BS in Environmental Science. Throughout his college career Hawk interned and volunteered with multiple organizations helping him obtain knowledge and skills pertaining to water quality management, invasive species management, and community engagement. Since then, Hawk has gained experience surveying Oak woodland and endangered habitats throughout the Willamette Valley in Oregon and began working as a naturalist for Exploring New Horizons in January of 2022. Laying a foundation of respect, emotional intelligence, and environmental stewardship are at the forefront of his teaching criteria as he hopes to instill a passion for spending time out in nature. Outside of camp one could find Hawk surfing, identifying mushrooms/birds throughout freshwater habitats, jamming out at concerts, and playing card/board games with his friends and family!
Eucalyptus She/Her – Naturalist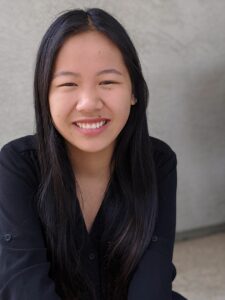 Eucalyptus grew up in the East Bay in a family of nature lovers. Going camping every year with her family is what slowly developed her excitement in the outdoors. Her love for nature quickly made her realize how important it is for us to help protect it, inspiring her to major in Environmental Studies at UC Santa Cruz. She has always had a passion for teaching, having experience docenting at Natural Bridges, teaching at Camp Galileo, Kids in Nature, and martial arts classes. She merged her passions for the outdoors and teaching by homing in on a career in outdoor education. Spending time with people outdoors and getting others connected to nature is what she loves most. When Eucalyptus was in 5th grade, one of her most defining moments was singing at the top of her lungs about banana slugs and scat while being a camper herself at Exploring New Horizons. She's so excited to be bringing it full circle this year, but this time as a Naturalist here at Sempervirens.
---
Sockeye He/Him – Naturalist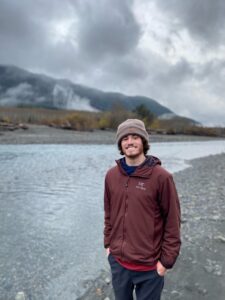 Sockeye grew up just a half hour south of San Francisco yet spent his summers as a kid at sleepaway camp in the foothills of the Sierras and taking backpacking trips into Yosemite, in awe of the towering granite and pine trees. His passion for the natural world was sparked in these formative years and led him to move to Colorado to study Environmental Studies at CU Boulder. Through these years, he spent his time focusing on ecology, environmental justice, and environmental education, as he spent his free time hiking, skiing, and climbing in the Rocky Mountains. Despite his transition to the Rockies, Sockeye continued to return to the Sierras summer after summer to be a counselor, and then wilderness leader at the very camp that he grew up going to, in order to spark that same passion in the next generation for the natural world that was sparked in him many years before. Sockeye most recently spent his summer leading trips for Outward Bound California, back in the High Sierras. As Sockeye transitions back to the west coast, he brings these experiences and learnings with him to ENH and is excited to continue down the path of outdoor education; helping foster students' connection to each other, the natural world, and themselves! In his free time, you can find Sockeye rock climbing, hiking, skiing, camping, reading in a hammock, or cooking with friends! Sockeye is also an aspiring gardener and piano player.
---
Sprout They/Them/She/Her – Naturalist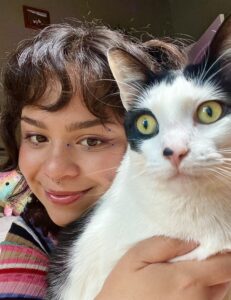 Sprout grew up in the sunny hills of Southern California. Though they did not spend much time camping or backpacking as a child, Sprout has always had a strong affinity for animals and a desire to spend all hours in the sun. Sprout's earliest childhood memories include: swimming in the ocean with their mom, playing with ladybugs in the schoolyard, and housing rollie-pollies in their grass-filled pockets in an attempt to domesticate the silly creatures.
Sprout has resided in Santa Cruz since 2018,and graduated from UC Santa Cruz with a Bachelor of Arts in Biology in 2021. They began their Naturalist journey in 2022 and have since been overjoyed to provide the outdoor school experience to every student they meet. Sprout feels honored to teach students how to find presence, healing, joy, curiosity, independence, and security in themselves through interacting with nature.
In Sprout's freetime, they can be found making pottery, jewelry, crochet items, and yummy food. They also love playing the piano, cuddling with their pets, studying astrology, and playing Animal Crossing.
---
Hammerhead Shark He/Him – Naturalist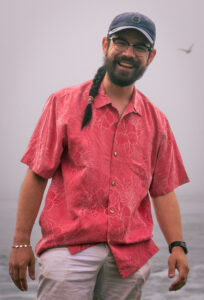 Hammerhead has had a fascination with the natural world ever since he first sat down in front of the TV to watch Steve Irwin's, The Crocodile Hunter. His 5th grade teacher saw that passion and was able to direct it into something concrete by talking about her many years working at an outdoor nature camp. These stories were so influential that he spent every year in high school volunteering at Walden West Science Camp. Those 400 collective volunteer hours landed him his first job as a Recreation Leader in the city of Cupertino's science camp where he learned the many skills involved in science education. He would continue to work in each summer while getting his bachelors of science from the University of California Santa Cruz in marine biology. Today, he has continued to dedicate his life to science education so that he may influence the next generation to care and love for the world just like his 5th grade teacher, naturalists from Cupertino, and the many wonderful professors from UCSC did for him.
---
Topo She/Her – Naturalist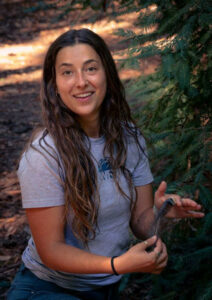 Topo's admiration for the natural world was sparked in her early childhood years while camping at Sycamore Canyon campground in Southern California with her family. These trips were a monthly occurrence, filled with beach walks, hikes, campfires, star gazing, and tree climbing. Playing outdoors as a kid led to an eventual interest in backpacking, rock climbing, and skiing in her teenage years. It wasn't until an AP Environmental Science course in her senior year of high school that she decided she wanted to involve her love for nature in her career path. Topo got her BS in Environmental Science from UC Santa Cruz. And, after studying abroad in Costa Rica for a semester, she developed a deep passion for wildlife conservation.
Topo enjoys spending her free time rock climbing, swimming in the ocean with her dog Finch, playing the guitar around a campfire, looking for live music, spotting birds of prey, or finding cold rivers to jump into!
---
Kite He/Him – Naturalist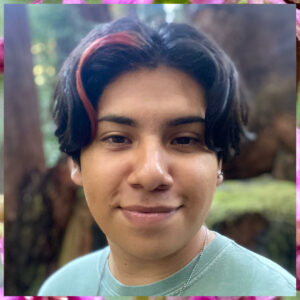 Kite is originally from Concord, CA but is now living in San Jose! His journey with Exploring New Horizons began in fifth grade, when he was a student at ENH in Loma Mar. He remembers walking through the redwood forest and the beach on rainy days and kissing banana slugs! Ever since, he's been inspired to go outside often and dedicate his time to learn and teach people about the natural world. In 2017, he went back to ENH to be a cabin leader and kept coming back week after week.
Kite has worked and lived in the Uinta Mountains of Utah, the Rocky Mountains of Colorado, the foothills of the Sierras in California and many of the amazing old growth redwood forests in California! Most recently, Kite was a naturalist for San Mateo Outdoor Education. He's moved around quite a lot over the years but he's glad to be able to spend time on trail with his students at Sempervirens.
When Kite's not on trail, you can find him drawing, reading, rock climbing, cooking, making others laugh, saying hello to his feathered friends and writing poetry in English and Spanish. Ask him about his experience with Cobra Kai!
---
 Jade She/Her – Naturalist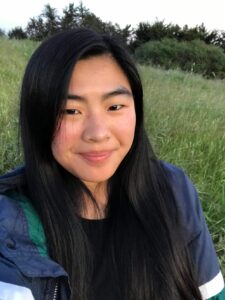 Jade grew up in Santa Cruz surrounded by the beauty of the ocean and redwood forests. In 6th grade, she attended Exploring New Horizons as a camper, and she is thrilled to return as a naturalist! She recently graduated from UC Berkeley with a B.S. in Environmental Science. During this time, she worked on a variety of projects, including interning at a soil science lab, researching sea level rise in the San Francisco Bay Area, and leading a dance team. She is passionate about environmental justice, scientific communication, and developing her skills in cartography. In her free time, Jade loves dancing, reading, and spending time with her family and cats.
---
Panda She/Her – Naturalist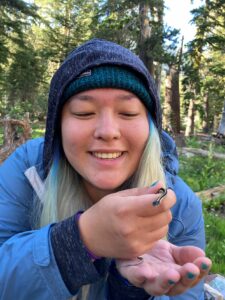 Panda loves exploring in nature with their family and friends, and bonding with people through the simple joys of a sunrise or a rainstorm or the smells of the forest. Learning new things about nature and the relationships among and between plants and animals always amazes Panda. Hiking, camping, and backpacking are some of their favorite things to do outdoors. In their free time Panda loves cooking, painting, and listening to music.
---