Redwood Glen Staff
The naturalist staff at Exploring New Horizons Outdoor Schools have extensive training and teaching experience in the environmental education field. They have a passion for teaching children in the outdoors and a commitment to creating a learning atmosphere that is fun, safe, educational, and inclusive of all learning styles. Each staff member holds at least a bachelor's degree and is certified in both first aid and CPR.
---
Kira/Lupine – Program Director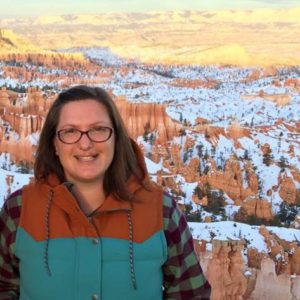 Lupine is from Los Osos, CA where she grew up exploring the trails of Montana de Oro State Park and spending time getting to know the beaches and tidepools in her backyard. She got her undergraduate degree at San Francisco State for Environmental Studies where she was active in the student environmental club. Lupine attended Island Wood & University of Washington for graduate school where she got her Masters in Education with a focus in Education, Environment, and Community.
Prior to joining the Exploring New Horizons family, Lupine worked educating the youth and the public in a variety of positions. She taught students about the local marine ecosystem at Aquarium of the Bay in San Francisco and the Monterey Bay Aquarium. She gained experience at Outdoor Schools through her time as a naturalist at Camp SEA Lab in Monterey/Aptos and at Hidden Villa Summer Camps in Los Altos Hills. She taught children with severe autism at The Bay School in Santa Cruz. She even wore the hat as a Park Ranger for the Education & Interpretation division of Yosemite National Park where she worked with the public doing tours, ranger walks, and leading Junior Ranger programs and campfires. She created a volunteer program for Scout and school groups in Death Valley National Park. In her free time, Lupine enjoys knitting socks, and hats with bear ears and tags to replicate Yosemite bears. She loves baking pies, cookies, cakes, and cheesecakes. Her favorite adventures include going on road trips to National Parks. Her favorite hike is the Sentinel Dome/Taft Point loop in Yosemite.
You can email Lupine at: kira@exploringnewhorizons.org.
---
Samantha/Clover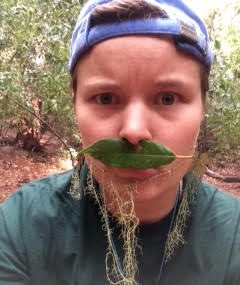 Clover grew up in Western Massachusetts where she gained a long lasting love and appreciation for the outdoors. She pursued her love of teaching and working with kids by earning a degree in General and Special Education at Juniata College. Before joining ENH, Clover worked at Nature's Classroom and multiple camps in New England then at San Mateo County Outdoor Education. When not working, she enjoys creating and listening to music, traveling, spending time outdoors and with friends, reading, playing games, and doing puzzles! Clover is looking forward to sharing adventures and her appreciation for nature with all of the students coming to Outdoor School!
---
Mo/Slimey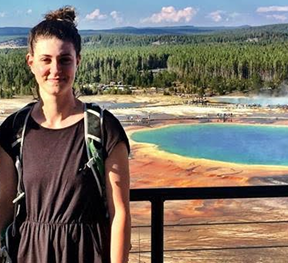 Slimey grew up in eastern Massachusetts where they spent their free time looking for salamanders under rocks and going for "mud walks" during low tide. In 2012, they graduated from Hampshire College where they concentrated in education and fine art. After spending a summer building trails in Vermont, Slimey realized they wanted to find a way to combine their passion for working with young people with their love of the outdoors.
During this journey, Slimey has interned with San Joaquin Outdoor Education School, worked as a park ranger in Glacier and Yellowstone National Parks, and counseled young people struggling with mental health challenges. They earned their Wilderness First Responder certification which led them to Exploring New Horizons Outdoor School as the medic/assistant director! In Slimey's spare time they like to hike, dance, read, pet dogs, listen to obscure podcasts, and attempt to learn the banjo. They love being a part of the Exploring New Horizons family, working to make sure each student has a happy, healthy, and safe time during their outdoor school experience.
---
Erin/Blue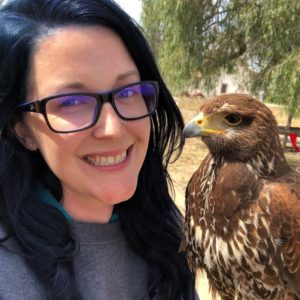 Blue was born and raised in sunny Florida just ten minutes away from the beach, and has actually seen an alligator crawl out of a storm drain. While attending college at the University of Florida (go Gators!), Blue began working with local nesting Northern Mockingbirds, and she hasn't looked back since. Since graduating college Blue has worked all over the eastern United States and Costa Rica as an outdoor educator. Blue first moved to California to work on the central coast, and is excited to explore the redwood forests of the Santa Cruz area!
---
Lauren/Red Fox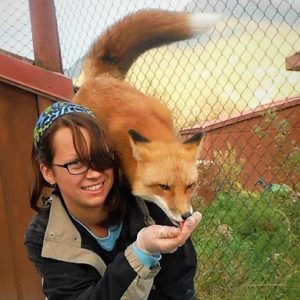 Born and raised in Livermore, California, Red Fox has always had a fascination for the coastline and ocean critters. This made her decision to attend UC Santa Cruz to study Marine Biology easy. Before coming to ENH she spent two summers working at the Alaska Wildlife Conservation Center (AWCC) where she trained with a very charismatic and clever red fox which quickly became her favorite.
Upon returning to California, Red Fox discovered the world of Outdoor Education and dove in head first. She interned for 2 years at San Joaquin Outdoor School, and then spent a year working for YMCA Camp Campbell Outdoor School before arriving at ENH Sempervirens.
When she is not running around looking for new animals to encounter during beach day Red Fox loves working with guests at the Monterey Bay Aquarium, or relaxing with sci-fi films, various sewing, crochet and art projects. She is excited to call the redwoods home and share her excitement with all the incoming students!
---
Dylan/Thrasher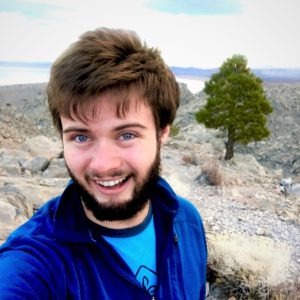 Thrasher grew up in the Sierra Nevada foothills just outside of Sacramento. He first became passionate about the outdoors while camping with his family at Silver Lake and while backpacking with his Boy Scout troop. In 2017, Thrasher graduated from the University of California, Santa Cruz with a degree in Environmental Studies. While at UCSC, he collected mosses, created maps, and wrote about how environmental activists use the legal system.
Thrasher also took part in UCSC's Natural History Field Quarter where he spent three months traveling through wild California studying the flora and fauna of the state. Before working at Sempervirens, Thrasher was a Naturalist at Camp Winthers and Foothill Horizons Outdoor School. In his free time, Thrasher enjoys cooking, rock climbing, and listening to podcasts. Thrasher is excited to be working at Sempervirens and is looking forward to sharing the mysteries of nature with everyone who comes to outdoor school.
---
Madeleine/Rattlesnake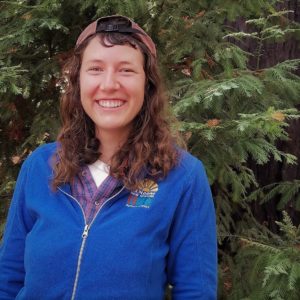 Rattlesnake hails from the Santa Cruz Mountains. As a kid, she spent her days playing in the redwood forest, frolicking in the creek behind her house, and building banana slug cities. She grew up reading Mourning Dove's Coyote Stories, which taught her to see herself as a part of nature. She pursued her passion for learning at UC Santa Cruz, where she earned a degree in Community Studies and Education. She has spent time working on Santa Cruz's Take Back the Tap campaign, advocating for the end of water privatization and educating the larger community about environmental justice. Rattlesnake has also taught several courses on the subjects of sustainability and community. Now, she is excited to help students at ENH to tap into their own love of nature, community, and themselves!
---
Andie/Lavender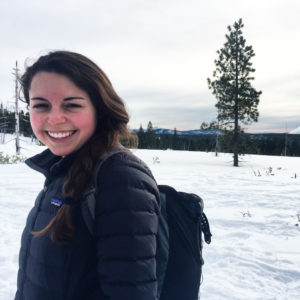 Lavender grew up in Hudson, Ohio and ventured out west to explore and go to school at Willamette University in Oregon. While in Oregon, she majored in Environmental Science, led trips and coordinated Willamette University's Outdoor Program, and adventured around the Pacific Northwest. Lavender spent the past year as an intern at an outdoor school in Marin County and is very excited to live and learn in the land of redwoods this year! She loves to swim in natural bodies of water, eat fresh fruit, nap in hammocks, search for wildflowers, and sing out of tune.
---