Pigeon Point Staff
The amazing staff at Exploring New Horizons at Pigeon Point always has extensive experience in the field of outdoor education. These naturalists are also musicians, puppeteers, storytellers, wildlife experts, and cooks. All are college graduates and certified in First Aid and CPR as well.
---
Heidi/Tigerlily – Program Director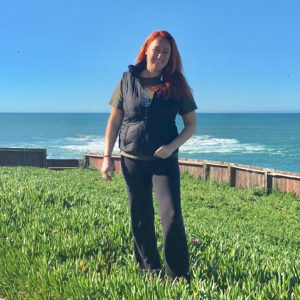 Tigerlily grew up playing outside and enjoying nature in the Adirondack Mountains of Upstate New York and Blue Ridge Mountains of Western North Carolina. She graduated with a Bachelor of Science in Environmental Studies from the University of North Carolina-Asheville. Tigerlily studied abroad at the University of Ghana-Legon taking Cultural Studies and lived in Costa Rica on a permaculture farm after college. She still enjoys traveling abroad, as well as locally in California. She especially loves swimming in and camping by rivers, lakes, and hot springs with her dog. When she is not on adventures in nature with students Tigerlily enjoys gardening, cooking, and dancing.
---
Nereyeda/Seed – Naturalist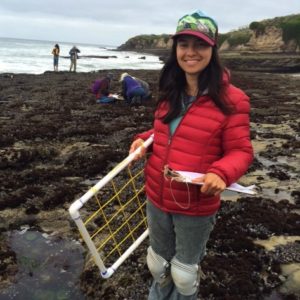 Seed was born and raised in the strange and wonderful land of Southern California. She migrated north to UC Santa Cruz for college where she studied community organizing and social justice. In 2009 Seed had the incredible good fortune of being hired as an intern naturalist at Exploring New Horizons. Nourished by the land and the wonderful ENH community, Seed's roots grew deep into the ground and her profound love for nature blossomed. She is continually inspired by the magical combination of youth and nature. In her free time Seed enjoys playing guitar, looking for whales, listening for woodpeckers, and exploring the forest and creek with Caleaf, her amazing 4 year-old son.
---
Nate/Nudibranch – Naturalist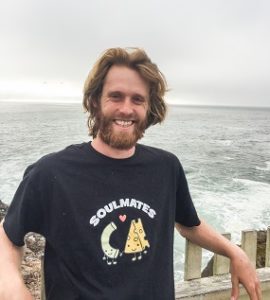 Nudibranch grew up in Lakeport, CA. He is a graduate of Guilford College NC with a B.S. in Biology and Health Science where he studied advanced ornithology, vertebrate field zoology and aided in salamander and invertebrate field research projects. In college, Nate worked as a Sustainability Representative where he planned educational events, designed projects and informed students about sustainability practices on campus. Nudibranch was a Nature and Hiking Instructor at the Cal-Explorer Camp in Berkeley where he worked with 4-6 year olds and created a lesson to help students recognize various bird calls. As Head Counselor at the Berkeley Peace Camp he worked with 5-12 year olds leading sports, hikes, swimming, singing, drama and teaching conflict resolution. Nate has continued these leadership roles at Quaker Service Camp in Ben Lomond, CA for the past 10 summers. Last summer he lead numerous programs for children, including: beach trips, campfires, educational hikes, sports and team building activities. His fluency in Spanish comes from 5 years of Spanish class and 11 total months of immersion split between El Salvador and Panama. Nudibranch enjoys, Yoga, rock climbing, disc golf, ultimate and surfing. He has played music all his life including choir for 5 years and drums for 13 years.
---
Emily – Naturalist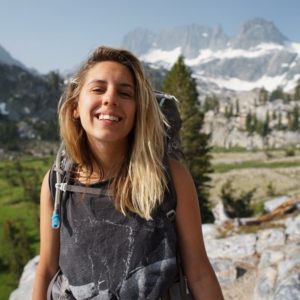 Emily was born and raised at Lake Michigan and moved to Olympia, Washington in 2013 to pursue higher education at Evergreen State College. Here she discovered her passion of working with humans and the environment to promote greater understanding of humanity's effects on our Earthly home. After graduating with a Bachelors of Science degree in 2016, Emily had her first experience of working with children in environmental education when she volunteered at a science-based summer camp located within the rich ecosystem of the Nisqually Reach Estuary.
Emily has built her knowledge of the local ecology of the Monterey Bay area estuaries, dunes, and wetlands through monitoring projects and assessments. She also began teaching elementary school students all about our wonderful watersheds and the species that rely on them, including us! In her free time, Emily enjoys backpacking in the mountains, reading on the beach, and making something delicious with the bountiful produce from the local farmer's market.
---
Kelsey – Naturalist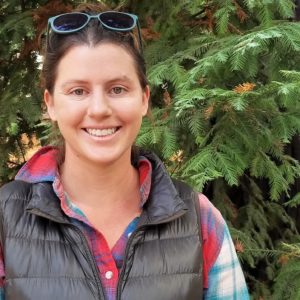 Kelsey grew up in Mill Valley, CA, where she learned to love the outdoors by exploring the nearby hiking trails of Mt. Tamalpias and the Marin Headlands. She graduated from Stanford University with a degree in Biology and earned a Masters in Environmental Management at the University of Houston. Kelsey is passionate about sharing her love of nature with diverse groups of students and has had the privilege of working as an Environmental Educator for Conservation Corps, Audubon, the YMCA, and, most recently, The Woods Project in Houston, TX. In her free time, Kelsey loves backpacking, hiking with her siblings and husband, cooking, baking, dancing, and bird watching! Kelsey believes that the outdoors can enrich all of our lives and cannot wait to create special outdoor moments for Bay Area youth at Pigeon Point!