Pigeon Point Staff
The Naturalist staff at Exploring New Horizons Outdoor Schools have extensive training and teaching experience in the Outdoor Education field. They have a passion for teaching children in the outdoors and a commitment to creating a learning atmosphere that is fun, safe, educational, and inclusive of all learning styles. All staff members are certified in both First Aid and CPR.
---
Chelsea/Hummingbird – Program Director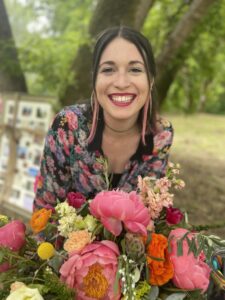 Hummingbird (she/her) grew up in the East Bay in Danville. She discovered ENH through her high school class Careers in Teaching, they were looking for cabin leaders and little did she know how much this place and program would impact her life. After attending Loma Mar for six years as a counselor throughout college, she graduated in 2013 from San Francisco State University with a BA in Liberal Studies with an Emphasis in Italian. In 2014, an Intern spot opened up at Loma Mar and the rest is history. Hummingbird has been involved with Exploring New Horizons for over 12 years. She spent several years working as a Naturalist at both our Loma Mar and Pigeon Point sites, and is beyond excited to be moving into the role of Program Director here at the Pigeon Point Lighthouse! Hummingbird's favorite things include cooking meals for her friends, dressing up for any occasion, learning about elephant seals, riding her bike, dancing and singing loudly in the car.
You can email Chelsea at chelsea@exploringnewhorizons.org
---
Megan/Water Strider – Naturalist
Water Strider (she/her) grew up locally, bouncing from the peninsula to Monterey through childhood and graduate school. She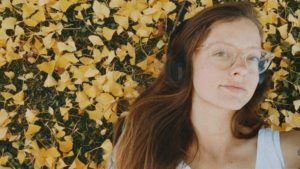 learned early on the clarity and learning nature provided, and after earning her degree in Art Therapy and becoming a licensed MFT, she chose to reconnect to these roots. She has worked supporting young minds in hospital settings, outpatient counseling clinics, and now from the Pigeon Point lighthouse. Water Strider is passionate about emotional learning, mindfulness, empathy, self expression and self-exploration. When not at work, she likes to connect with loved ones, make art, travel around California and bake her infamous Snickerdoodle cookies.
---
Margaret/Hawk – Naturalist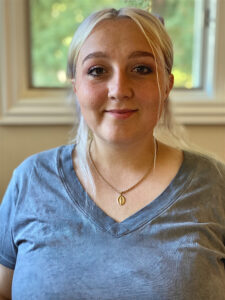 Hawk (she/they) grew up in San Mateo county and as far back as they remember has always loved exploring the redwoods and tide pools of California's coast. After earning a BA in Creative Writing from Sonoma State University they deepened their love of nature through working as an Earth Educator in a couple different programs. They are a strong proponent of Jon Young's Coyote Mentoring approach when it comes to engaging and educating students of all ages and walks of life and they are a passionate advocate for the healing power of spending time in nature. When they're not at work you can find Hawk hiking with their German Shepherd, Zelda, trying out new recipes, and blaring all the greatest pop punk hits of the early 2000s
---
Kayla/Pickleweed – Naturalist
Pickleweed (she/her) grew up in San Francisco and San Mateo Counties, where she fell in love with the outdoors at a very young age. Now living in a cabin in the redwoods of Pescadero, she explores and forages nearby trails with her dog Chloe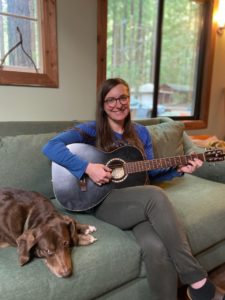 Oates. Before starting as a Naturalist with Exploring New Horizons, Pickleweed spent many years working in libraries, incorporating nature and science wherever she could, including cultivating a library garden run by teen volunteers, leading teens in habitat restoration projects, and running nature themed story times and science experiments. Although she'll miss libraries, she's excited for a new adventure where she will get to nerd out with kids and teens about all things nature. In addition to her work in libraries, Pickleweed also volunteers with Volunteer for Outdoor California (VoCal) to help build trails all over the Bay Area as well as with the Santa Cruz Museum of Natural History in various capacities. She is looking forward to bringing her experience to ENH and is most excited about helping kids and teens make connections between things they see in nature and their own lives. When not at work, Pickleweed enjoys foraging, hiking, backpacking with Chloe, writing, and homesteading such as growing mushrooms, making jam, and experimenting with ferments!
---
Katrina/Marigold – Naturalist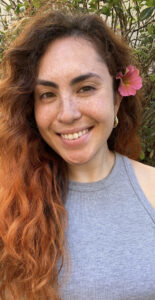 Katrina (she/her) is originally from Merced in the Central Valley of California. She grew up with Yosemite National Park in her backyard, so she's been a nature lover from early on! Being out in nature allows her to clear her head, decompress, and reconnect with herself. Anytime she's out exploring a new place, she leaves constantly amazed and recharged. Katrina attended San Jose State University and obtained her Bachelor's Degree in Sociology and Human Rights. She has been driven to help people in her community, in any capacity she can. Katrina has worked in group homes for foster youth, substituted at local schools, and worked in her local library. She wants to combine her love for helping others and love for the outdoors which has brought her to ENH! In her spare time she loves to travel, frequent farmer's markets, and go thrifting!
---