Exploring New Horizons Cabin Leaders


Become an Environmental Leader. Volunteer Now!
Exploring New Horizons is looking for high school students to be a cabin leader for groups of 7-12 5th and 6th grade students during 4 and 5-day environmental education programs at our site in Loma Mar, CA (in the redwoods south of Half Moon Bay). ENH has over 500 high school students volunteer as cabin leaders each year, gaining valuable leadership and communication skills, community service credit, and references for college or job applications. Acting as role models, cabin leaders ensure that their cabin group is working as a team and getting to meals and hikes prepared and on time. Our naturalists lead all hikes and activities and our cabin leader coordinator and staff will support you 24-hours a day throughout the week. During the program you will explore old-growth redwoods, tidepool, go on a night hike, dance at the Barnyard Boogie, and more. Meals, accommodation, and transportation are provided!
---
How to Apply
If you are interested in being a cabin leader, please email the following information to our Program Coordinator, Natasha Anderson at natasha@exploringnewhorizons.org or call the Loma Mar office with any questions: (650) 879-0608.
Please include in the email to us your:
first and last name
phone number
email address
high school name
grade
if you have been a cabin leader before
if there is a specific week you want to come with a specific grade school
Application
Once you have emailed us this information, please fill out the Cabin Leader Application package. While you can fill this out before printing the application, you will need to print it because it requires some signatures. Once you have filled this out and gotten all the signatures from your teachers and others at your high school that are required for you to be able to be a cabin leader, please scan (or take a clear picture of the forms with your phone) and email your paperwork to the Program Coordinator at the above email address.
Cabin Leader Training & Participation
Our Program Coordinator comes to many Bay Area High Schools to recruit cabin leaders for one of our 33+ weeks of program annually. Each potential cabin leader has to complete an application, participate in an interview and attend a training for a few hours after school to help prepare you for a week of environmental education.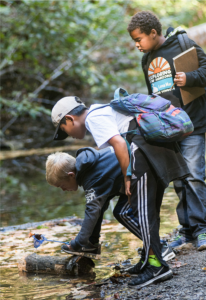 If you are chosen as a cabin leader we will notify you within a few weeks following your interview. If selected, you will meet at the elementary or middle school in the morning on the first day of outdoor school and ride the bus with the students to program. Once you arrive at the outdoor school you will go through a training and each day you will meet with our cabin leader coordinator and other cabin leaders in a professional learning community.
Other Important Information
Here is a Cabin Leader Packing List to help you pack and prepare for what to bring. Take a moment and familiarize yourself with the schedule for the week of outdoor school. View the Loma Mar Schedule.
As you are preparing for your week remember that you'll need to bring lunch for the first day, snacks you may want during your time off, a watch (there's no cell service) and a raincoat.