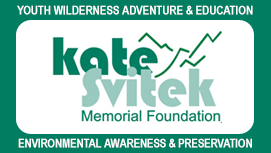 Our Newest Supporter
We'd like to thank the Kate Svitek Memorial Foundation for their philanthropic contribution to help Exploring New Horizons eliminate barriers and create pathways of equitable access for students coming from underserved schools to attend outdoor school. The Kate Svitek Memorial Foundation's mission is to provide financial support to individuals, groups, and institutions whose interests and goals align with Kate's hopes and dreams. The Foundation supports a range of activities and education principally related to outdoor and wilderness exploration, study, observation, preservation, improvement, expansion, and enhancement.
The Kate Svitek Memorial Foundation was created in memory of Kate Svitek who had a passion for the outdoors. Her dream was to open her own school for children to learn outdoor skills and develop a respect and passion for our wilderness as she did. This partnership will help us with our Equity Goals for the next school year of:
recruiting more schools with a Free & Reduced Lunch Rate (FRL) greater than 50%;
supporting individual students with financial need from schools with less than a 50% FRL Rate; and
ensuring that we continue to serve current schools with a FRL over 50%.
Thank you Kate Svitek Memorial Fund!
PS: If you would like to help us with our Equity Goals, click on the golden Donate Now button at the top of our website.