Who We Are and What We Do!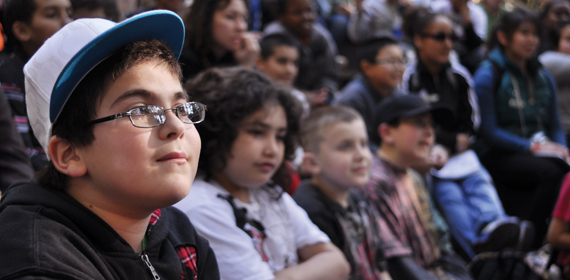 Exploring New Horizons (ENH) engages school groups in overnight outdoor education programs that strengthen school communities while accelerating environmental and emotional literacy. Founded as a nonprofit in 1979, ENH partners with over 100 schools annually, and in our 43-year history we have served more than 215,000 students. Each year, over 7,000 San Francisco and Monterey Bay Area students participate in 3 to 5-day programs at our Sempervirens and Pigeon Point sites.
ENH takes a whole child approach focused on social emotional learning, environmental literacy, health, and the arts. Naturalists lead trail groups in unplugged, place-based lessons concentrating on adaptations, cycles, diversity, interdependence, and more, creating positive associations between learning and the outdoors while sparking students' interest in science and environmental stewardship. Students also participate in cooperative team building activities in a positive and inclusive environment that solidify relationships with classroom teachers and peers. Our programs also focus on conservation, as students weigh and graph their food waste at the end of each meal, compost food scraps in the garden, try to take a 3-minute shower, and participate in a mock town hall meeting. Learnings are reinforced through reflective nature journaling, art, participatory group songs, dances, puppet shows, and skits, where groups get on stage and act out a concept they learned during the week. A week away from home and the classroom, having fun learning about nature and working as a team outdoors, improves personal, community, and environmental wellbeing.
ENH also has over 500 high school students volunteer as cabin leaders each year, acting as role models for their cabin group while gaining valuable leadership and communication skills, community service credit, and references for college or job applications. Cabin leaders also spend an hour each day in a professional learning community facilitated by our staff, working through challenges and sharing successes from the day.
Our curriculum is aligned to Next Generation Science Standards and the 5-core social and emotional learning competencies (self-awareness, self-management, social awareness, relationship skills, responsible decision making).
Land Acknowledgement
ENH operates our program on the native lands of the Amah Mutsun Tribal Band. Collectively referred to by many as "Ohlone", the Amah Mutsun are the indigenous peoples of the territories ranging from Año Nuevo to the greater Monterey Bay area. Historically comprised of more than 20 politically distinct peoples, the modern tribe represents the surviving descendant families of  the indigenous people who survived the Santa Cruz and San Juan Bautista missions. The Amah Mutsun Land Trust (AMLT) is the vehicle by which the Amah Mutsun access, protect, and steward lands that are integral to their identity and culture.
Equity & Inclusion Goals
Equity and inclusivity are central to ENH's mission of empowering students, building environmental literacy and strengthening school communities through outdoor education.
ENH currently engages 7,000 students a year in 3 to 5-day residential outdoor education programs. Most of our students come from Contra Costa, Alameda, and Santa Clara Counties and approximately 34% of our participating schools are lower-income schools (defined as schools with over 40% of students eligible for Free or Reduced Price Lunch).
Our main equity goal is to engage more lower-income schools in outdoor education each year and to serve more Black and LatinX students. We do this by offering lower-income schools a reduced rate and seeking both grants and individual donations.
ENH is also committed to creating an inclusive environment within our staff and at all our outdoor education programs, so that people of all races, gender identity, ages, sexuality, ability, national origin, and religions feel safe and welcome to express themselves fully and freely while participating in our program. ENH engages our staff in professional development on equity, inclusion, culturally responsive pedagogy, and implicit bias, with a focus on race and gender.
The ENH Board also has an Equity Committee to define and lead an ongoing program across all ENH sites to better provide environmental education to underserved communities and meet the needs of these communities before, during and after experiences at ENH.
ENH will continue to refine and deepen our Equity & Inclusion Goals to ensure that all students are able to participate in outdoor education in the years ahead.
History of ENH
Exploring New Horizons (ENH) was founded by Laura Tucker and Gary Nightengale as a 501 (c) 3 non-profit organization in June, 1979, and began as a summer camp at Hoyfjellet Lodge high atop Donnor Summit near Nordon, California.  Laura and Gary worked as naturalists for Murray Outdoor School (MOS), the outdoor education program run by Murray Unified School District of Pleasanton and Dublin, California, and in the Spring of 1981, Murray School District began contracting directly with ENH to provide outdoor education. By 1982, MOS no longer existed, and ENH filled the gap by conducting 5th and 6th grade outdoor education at the Hoyfjellet and Camp Loma Mar near Pescadero (Oh Pescadero!).
In 1984, with $500 of seed money, Mark Nolan started Pigeon Point Environmental Education Program (PPEEP) at the Lighthouse, which now serves nearly 1,000 students a year! Another great opportunity came in 1999, when ENH was approached by the Sempervirens Fund regarding a new property they had just acquired near Big Basin State Park and in 2000 the Sempervirens Outdoor School (SVOS) was born!
Unfortunately, just before the pandemic in 2018, ENH was forced to move out of their Sempervirens site and eventually the program was put on hold. During the pandemic ENH paused residential programs in March of 2019 and started two new program: Virtual Science Camp (which served over 4,000 San Francisco Bay Area students) and Outdoor Afterschool (which served students in Pescadero, Half Moon Bay, and Santa Cruz). In the midst of the pandemic, more tragedy struck, as the East Bay YMCA ended the 40-year partnership with ENH. ENH ran program at Camp Loma Mar from 1982-2020 and served nearly 5,000 students a year at this site.
ENH has now found a new home at our new site in Scotts Valley, CA where we reopened the Sempervirens program in January 2022! Pigeon Point also resumed programs in January and ENH is still on the hunt for a 3rd site to further our mission of engaging students in high-quality and affordable outdoor education.
Our Mission and curriculum focuses on:
---
Environmental Literacy
Experienced naturalists deepen students' ecological knowledge and interest in science and environmental stewardship through nature understanding and appreciation. Naturalists focus on Next Generation Science Standards and 4 basic ecological concepts: Adaptations, Cycles, Energy, and Interdependence. Learnings are reinforced through reflective nature journaling; drawing or nature art; participatory group songs, dances, and puppet shows, and skits where cabin groups act out a concept they have learned during the week.
---
Empowerment & Team Building
School groups engage in cooperative team building activities, including family style dining and developing solutions to environmental problems, and will experience the benefits of supportive cabin and trail group teams. Students will be called upon to contribute creative ideas to team endeavors and will be empowered as valuable parts of their team. A week out of the classroom in a new and emotionally-safe space builds students' self-confidence, empowering students to disrupt their classroom identities, behavior patterns, and solidify relationships with teachers and peers.
---
Environmental Stewardship
Students learn about local, regional and global environmental problems and potential solutions, including simple adjustments to lifestyle (composting, solar energy and recycling). Students will learn about individuals who have been successful in solving environmental problems and role-play environmental dilemmas in a town hall meeting. Students will connect their learnings at the outdoor school and in nature to their own home and school communities. Finally, students will be given the opportunity to graduate from outdoor school!