Who We Are and What We Do!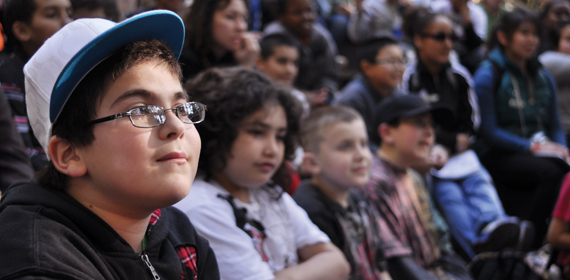 Founded as a non-profit in 1979, Exploring New Horizons' goal has always been to offer high-quality and affordable residential environmental education programs that enhance interpersonal relationships and positive associations between learning and the outdoors which students, teachers and high school cabin leaders can take back to their classrooms and homes. Over the past 40 years, our experienced naturalists have engaged over 200,000 3rd-8th grade students in 3 to 5-day outdoor education programs!
History of ENH
Exploring New Horizons (ENH) was founded by Laura Tucker and Gary Nightengale as a 501 (c) 3 non-profit organization in June, 1979, and began as a summer camp at Hoyfjellet Lodge high atop Donnor Summit near Nordon, California.  Laura and Gary worked as naturalists for Murray Outdoor School (MOS), the outdoor education program run by Murray Unified School District of Pleasanton and Dublin, California, and in the Spring of 1981, Murray School District began contracting directly with ENH to provide outdoor education. By 1982, MOS no longer existed, and ENH filled the gap by conducting 5th and 6th grade outdoor education at the Hoyfjellet and Camp Loma Mar near Pescadero (Oh Pescadero!).
In 1984, with $500 of seed money, Mark Nolan started Pigeon Point Environmental Education Program (PPEEP) at the Lighthouse, which now serves nearly 1,000 students a year! Another great opportunity came in 1999, when ENH was approached by the Sempervirens Fund regarding a new property they had just acquired near Big Basin State Park and in 2000 the Sempervirens Outdoor School (SVOS) was born!
Unfortunately, just before the pandemic in 2018, ENH was forced to move out of their Sempervirens site and eventually the program was put on hold. During the pandemic ENH paused residential programs in March of 2019 and started two new program: Virtual Science Camp (which served over 4,000 San Francisco Bay Area students) and Outdoor Afterschool (which served students in Pescadero, Half Moon Bay, and Santa Cruz). In the midst of the pandemic, more tragedy struck, as the East Bay YMCA ended the 40-year partnership with ENH. ENH ran program at Camp Loma Mar from 1982-2020 and served nearly 5,000 students a year at this site.
ENH has now found a new home at our new site in Scotts Valley, CA where we will be reopening the Sempervirens program in January 2022! Pigeon Point will also resume programs in January and ENH is still on the hunt for a 3rd site to further our mission of engaging students in high-quality and affordable outdoor education.
Our Mission and curriculum focuses on:
---
Environmental Literacy
Experienced naturalists deepen students' ecological knowledge and interest in science and environmental stewardship through nature understanding and appreciation. Naturalists focus on Next Generation Science Standards and 4 basic ecological concepts: Adaptations, Cycles, Energy, and Interdependence. Learnings are reinforced through reflective nature journaling; drawing or nature art; participatory group songs, dances, and puppet shows, and skits where cabin groups act out a concept they have learned during the week.
---
Empowerment & Team Building
School groups engage in cooperative team building activities, including family style dining and developing solutions to environmental problems, and will experience the benefits of supportive cabin and trail group teams. Students will be called upon to contribute creative ideas to team endeavors and will be empowered as valuable parts of their team. A week out of the classroom in a new and emotionally-safe space builds students' self-confidence, empowering students to disrupt their classroom identities, behavior patterns, and solidify relationships with teachers and peers.
---
Environmental Stewardship
Students learn about local, regional and global environmental problems and potential solutions, including simple adjustments to lifestyle (composting, solar energy and recycling). Students will learn about individuals who have been successful in solving environmental problems and role-play environmental dilemmas in a town hall meeting. Students will connect their learnings at the outdoor school and in nature to their own home and school communities. Finally, students will be given the opportunity to graduate from outdoor school!
Virtual Science Camp
ENH is currently also offering our Virtual Science Camp Program!