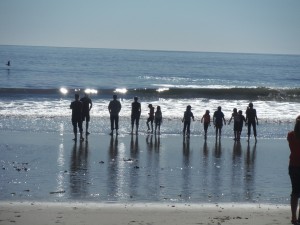 Pigeon Point is wrapping up its largest fall program ever this week! Our site traditionally ran January through June but we have been adding more and more schools in the fall to accommodate all of the students and teachers who want to come to the lighthouse, explore the tide pools and meet the northern elephant seals at Ano Nuevo. This fall we served 7 schools of 13 different classes. That's more than 250 students!
It was really fun to get out to Ano Nueveo so much during the fall. There are always elephant seals on the beach, but the scene varies greatly by season and sometimes even week to week. We saw plenty of females starting in September, but then more and more juvenile males began showing up. The main reason the seals come to shore during this time is to molt. It takes them about five weeks and during that time they get a fresh new coat as well as eyelashes and whiskers. The last few weeks we've gotten to see a lot of sparring. The young males have to practice fighting and toughen up as much as they can to prepare for breeding season.
This fall we've also gotten to see otters, plenty of harbor seals, and the occasional grey whale spout way off the point as they all head south for the winter. There have also been some great tide pool finds, including Willow and Pebble's crazy two octopus day. Other fall highlights include awesome coastal weather, stellar sunsets, Venus shining bright over the ocean, and an unusually large amount of sand to play on at surfer beach after our hikes. We close up the season with our last awesome group of Kensington students this week, but come January will be raring to go again.