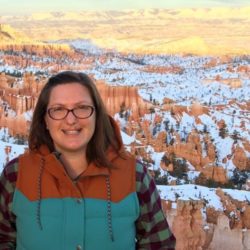 Meet our new Sempervirens Director, Kira "Lupine"
Kira is from Los Osos, CA where she grew up exploring the trails of Montana de Oro State Park and spending time getting to know the beaches and tidepools in her backyard. She got her undergraduate degree at San Francisco State for Environmental Studies where she was active in the student environmental club. Kira attended IslandWood & University of Washington for graduate school where she got her Masters in Education with a focus in Education, Environment, and Community.
Prior to joining the Exploring New Horizons family, Kira worked educating the youth and the public in a variety of positions. She taught students about the local marine ecosystem at Aquarium of the Bay in San Francisco and the Monterey Bay Aquarium. She gained experience at Outdoor Schools through her time as a naturalist at Camp SEA Lab in Monterey/Aptos and at Hidden Villa Summer Camps in Los Altos Hills.  She taught children with severe autism at The Bay School in Santa Cruz. She even wore the hat as a Park Ranger for the Education & Interpretation division of Yosemite National Park where she worked with the public doing tours, ranger walks, and leading Junior Ranger programs and campfires.  She created a volunteer program for Scout and school groups in Death Valley National Park.   
Kira's journey to Program Director began when she visited the Sempervirens site about 7 years ago. She fell in love with the program, the culture, values, and community. This past year, when her time as a seasonal employee at Yosemite was coming to a close she learned about the Sempervirens Program Director position. She felt it was a great fit and was excited that it met with her long-term goals. According to Kira, " I want to help people.  I want to facilitate fulfilling, compassionate, memorable, wow-inducing, potentially life-altering outside experiences and inspiration, especially to those who may not have the easiest access to those things.  I want to build communities and be in communities.  I want to work with people who want those things, too.  And ENH seems to me to be full of people who share these visions."
In her free time, Kira enjoys knitting socks and hats with bear ears and tags to replicate Yosemite bears. She loves baking pies, cookies, cakes, and cheesecakes. Her favorite adventures include going on road trips to National Parks. Her favorite hike is the Sentinel Dome/Taft Point loop in Yosemite. If you ever want to make her day, bring a loaf of fresh sourdough and goat cheese to enjoy while overlooking the ocean!
Welcome to Sempervirens, Kira!