Loma Mar Staff
The Naturalist staff at Exploring New Horizons Outdoor Schools have extensive training and teaching experience in the Outdoor Education field. They have a passion for teaching children in the outdoors and a commitment to creating a learning atmosphere that is fun, safe, educational, and inclusive of all learning styles. All staff members are certified in both First Aid and CPR.
---
Joshua/Bobcat – Program Director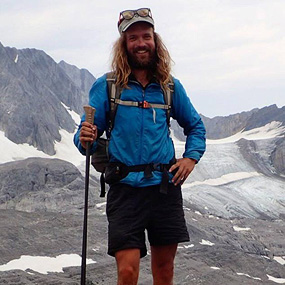 Bobcat was born in the Chesapeake Bay watershed in Baltimore, MD. Growing up, he explored every inch of green space he could find and played the cello a lot. His nature studies were inspired and guided by some wonderful mentors both at summer camp and in his family. Decades later, little has changed. Bobcat has hiked over 15,000 miles, including two walks across the United States and a traverse of Iceland. He received a B.A. in music from Earlham College and plays in the band Ghost Train and other projects. His deep relationship with nature and music are constantly displayed in his teaching at the outdoor school. Bobcat has been a part of Exploring New Horizons since 2006.
You can email Bobcat at joshua@exploringnewhorizons.org
---
Lindsay/Wren – Assistant Director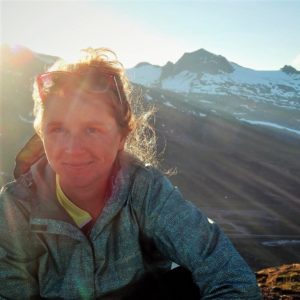 Wren grew up in the great state of New Jersey. After high school, she headed to James Madison University where she earned a B.S. in Biology with a minor in Communications. Wren's love of the outdoors and desire to share that passion with kids is what led her to Outdoor Education shortly after her graduation in 2016. She spent two seasons as a naturalist at YMCA Camp Mason and two seasons at Whiskeytown Environmental School. Wren enjoys traveling to new places and seeing new things. She hopes to inspire a love of nature and discovery in her students.
---
Roni/Sunflower – Operations Coordinator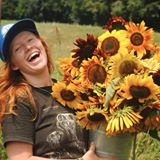 Sunflower grew up exploring the outdoors and playing sports with her family in the Bay Area. Places like Yosemite, Mt. Hermon, and Lake Tahoe inspired her at an early age, and her first ascent up Yosemite Falls at age 7 instilled a desire for all things outdoors, especially hiking, backpacking, and rock climbing. By high school, she and her friends frequently spent weekends waking up at 3 am to hike the local hills and watch the sunrise over Mt. Diablo. Sunflower's other true love is dance. Beginning with ballet at age 3, all the way to earning her B.A. in Dance with a Modern Emphasis from San Jose State University, to a continued professional career, she still infuses her performance-based lifestyle into her career as a naturalist. Sunflower spends her free time honing photography skills, picking up instruments – flute, guitar, ukulele, banjo, and more – learning efficient ways to garden, thrift shopping, and laughing until her abs hurt. She spent two summers in Austria, interning on Kleinefarm, learning how to sustainably grow, care for, and harvest fruits and vegetables. After 5 years as a naturalist and summer gardener at Exploring New Horizons Loma Mar, Sunflower is thrilled to take on a new role as both a gardener and administrator for the program.
---
Natasha/Ozone – Program Coordinator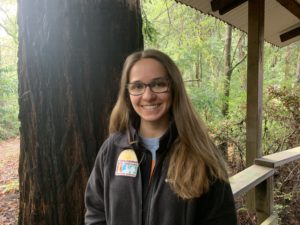 Ozone grew up in the small rural mountain town of Frazier Park, California, where she was able to explore and connect with nature at an early age. While attending school at Santa Monica City College, Natasha gained exposure to diversity and a basic understanding of social and economic inequalities. While working for the Santa Monica Public Library she honed her skills of organization and attention to detail while maintaining the categorization of library material. Upon transferring to UC Berkeley, Natasha pursued her education, earning simultaneous degrees in Conservation and Resource Studies (Bachelor of Science) and Sociology (Bachelor of Arts). Acknowledging the intersection and interdependence between people and the environment, Natasha worked for the East Bay Regional Park District (EBRPD), in the Mobile Education Division, as an Interpretive Student Aide II.  While working in Mobile Education, Natasha gained experience driving to schools throughout the East Bay and delivering interactive educational nature programs. Upon graduating from UC Berkeley, she became a Naturalist Aide with the EBRPD and then continued to improve her outdoor teaching techniques by working for San Mateo Outdoor Education as a Naturalist. This past summer Natasha worked for the California State Parks in Big Basin as an Interpretive Ranger and as a Kayak Guide for Kayak Connection in Santa Cruz. After gaining hands-on trail experience leading students on adventures based around NGSS science standards, she wanted to satisfy her desire to make the magic happen behind the scenes. Becoming Program Coordinator, Natasha can use her formal education and past work experience while satisfying her goal of aiding students' opportunity to explore and connect to the natural world. Natasha's other interests and passions lie in dancing, hiking, tide-pooling, stretching, playing/listening to music, traveling, playing cards, and spending quality time with friends.
You can email Ozone at natasha@exploringnewhorizons.org
---
Tim/Raptor – Naturalist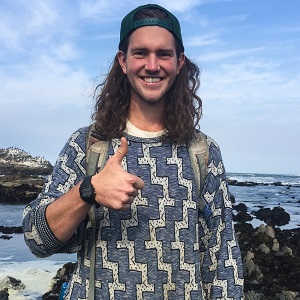 Raptor was born and raised in the concrete sprawl of Los Angeles, CA, but dreamed of the forests that lie beyond. After graduating high school, he traveled to Oregon and received his BA in Environmental Science with an emphasis in Environmental Policy Making from Willamette University in December 2015.
In addition to his studies, Raptor has worked on numerous farms, and served as an employee on his school's student farm, which helped to provide locally grown fruits and vegetables to the students, faculty and employees. Before joining the team at ENH, Raptor worked as an intern naturalist for San Mateo Outdoor Education where this passion only continued to grow stronger. In addition to inspiring others about the natural world, he loves to go mountain biking, running, backpacking, snowboarding, and enjoys reading, writing, walking dogs and playing the saxophone and guitar.
---
Adam/Berry – Naturalist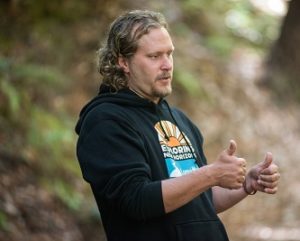 Berry was born in raised in the Ohio River Valley in southern Indiana. Berry fostered an appreciation for outdoor education while attending Indiana University's Outdoor Recreation Department. Eventually shifting in the Teachers Education Program, He was able to bridge his principles of environmental stewardship with academic enrichment and instruction. He was also a classroom schoolteacher for four years while preparing to make a westward transition to the central coast of California to pursue a deeper connection and understanding to the food production systems that is especially vibrant to Cenrtal California. Since moving to California, Berry found the perfect communion of academics and nature awareness in the world of Outdoor Education. Additionally, Berry is interested in spending time in and around the ocean, or helping to work at local farmers markets or farm to table dinners in and around the Bay Area.
---
Henry/Dog – Naturalist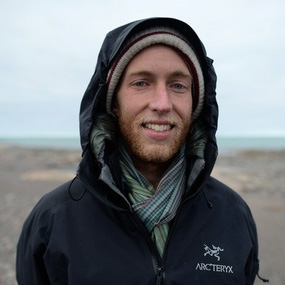 Dog is from St. Louis, Missouri. He attended Guilford College in Greensboro, North Carolina and graduated in 2010 with a degree in Peace and Conflict Studies with concentrations in Political Science and International Political Economy. Since graduating, he has spent time as a ranch hand, a soccer coach and as a speedy deliverer of UPS packages. Dog enjoys knot tying, and he is a semi-proficient unicyclist. He also spent two years working at the neighboring San Joaquin Outdoor School in La Honda, California.
---
Julia/Butterfly – Naturalist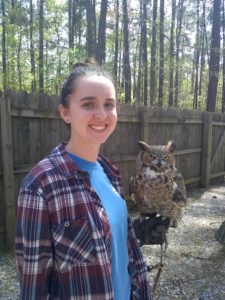 Butterfly grew up in the mountains of Blacksburg, Virginia.  She enjoyed spending time outside and hiking and camping with her family there.  For college, she went to William and Mary in Williamsburg, Virginia and received a degree in Public Policy and Environmental Science.  Her introduction to the field of environmental education was through an internship in the Great Smoky Mountains of Tennessee.  After college, she worked in environmental education in North Carolina and Alabama, in addition to teaching English for four months in Chile.  In her free time, she enjoys hiking, reading, making art, playing Frisbee, and exploring.  Butterfly is excited to be part of the wonderful environmental education community in Loma Mar!
---
Brenna/Turkey Tail – Naturalist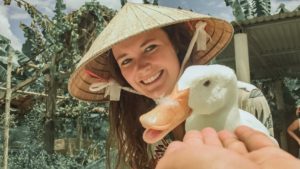 Brenna grew up in Minnesota and her love of nature grew by leaps and bounds when she attended high school at the School of Environmental Studies. She couldn't spend enough time outdoors. A Conservation Biology major at the University of Wisconsin-Madison led her to study abroad in the Amazon rainforest, Galapagos islands, and the dry coastal forest in Ecuador. After college, Brenna had the wonderful opportunity to be a naturalist intern at the Sierra Outdoor School in the Sierra Nevada Mountains. One of her favorite assignments was learning to handle a Great Horn Owl while teaching in front of her students. From there, Brenna lived in Thailand for two years teaching English to kindergarten and high school students. She loves Thai food, learning about different cultures, and meeting people from around the world! She's back in the US and excited to teach students outdoors in the redwoods!
---
Ziggy/Jackalope – Naturalist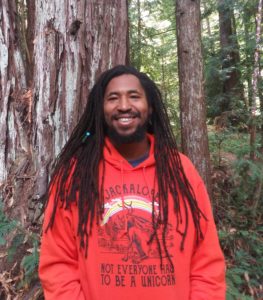 Jackalope originally came to Santa Cruz, California in 2010 to pursue music and fine arts but was entranced by the beauty and the nature surrounding the Santa Cruz Mountains. This led Ziggy to the world of outdoor education and to Exploring New Horizons where he became a Cabin Leader. After that he honed his teaching and natural science skills as an intern at Hidden Villa in Los Altos and at San Mateo Outdoor Education program in La Honda. Now Ziggy is proud to be a Naturalist at the school that started it all. He strives to inspire a sense of wonder, respect and responsibility to our world both locally and globally. It is an honor for him to have the opportunity to guide and mold the citizens of the future. When he is not teaching students to care for the planet and each other Ziggy can be found playing guitar, painting murals, tracking the native fauna, nature journaling the local flora and eating potato chips.
---
Naomi/Clay – Naturalist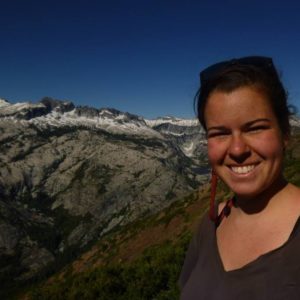 Clay was born and raised in Santa Cruz California where she got to explore the beautiful coast lines and epic redwood forests. She went to collage at Fairhaven College of Inerdisiplinary Studies at Western Washington Univerisity in Bellingham Washington where she got her major in Critical Environmental Education and minor in education and social justice. She has spent many summers leading backpacking trips in the Trinity Alps for young people ages 10-17. In her free time she loved to play with mud, dance in the rain, draw, sing, and make funny faces at her friends. Clay is beyond excited to be on the Naturalist team at Loma Mar.
---
Maitland/Aspen – Naturalist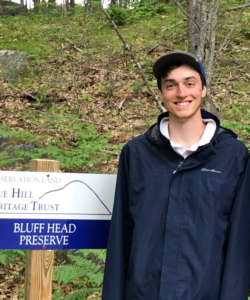 Aspen was born in a small town in the state of Connecticut. From a young age
he always enjoyed hiking and exploring the outdoors. After high school Aspen
headed up to New Hampshire and got his B.S. in wildlife and conservation biology at
the University of New Hampshire. During college his understanding of his
connection with the natural world grew deeper. Aspen has spent time working on a
trail crew, doing forest ecology research, working on a farm, and working for a land
trust in Maine. After spending most of his life in New England he set off to start his
outdoor education journey in California. Prior to working at ENH, Aspen worked for
San Mateo Outdoor Education where his passion towards educating others about
the environment just continued to grow. In addition Aspen loves to spend his time
snowboarding, hiking, playing guitar, doing yoga, and eating plants. Aspen is excited
to be at ENH sharing the beauty of the world with others.
---
Sarah/Goose – Naturalist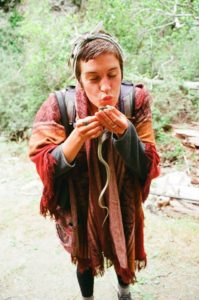 Goose hails from the foothills of the Sierra Nevada's where she became an animal lover at a young age. She attended school in New York and Santa Cruz, and has lived and volunteered all over the world, from Australia to India to Indonesia. She has focused her education on theater and storytelling, but her favorite stories to tell are about nature. She credits UCSC's Natural History Field Quarter program and her job as a kayak guide in the Elkhorn Slough Wildlife Reserve as helping inspire her to become a naturalist. In the future she hopes to get involved with wildlife conservation, but for now the primary wildlife she is focused on conserving is her cat, Maestro.
---
.