Exploring New Horizons is excited to announce Joshua Lanam as its next Executive Director!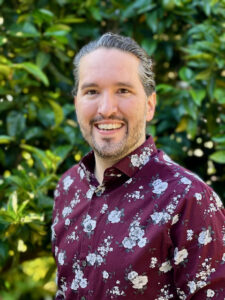 Josh has over twenty years of combined experience in the nonprofit, education, and private sectors. Most recently, he served seven years as the executive director at Vivace, a youth music education organization in Silicon Valley. Prior to joining Vivace, he led a supply chain management group and was responsible for $20-million annual revenue and expenses for a branch of a multinational corporation. In the education sector, Josh taught in urban and rural public schools in Ohio. Josh started his career in outdoor education—first as a summer camp counselor (camp name "Tenor"), then as a naturalist, supervisor, and board member. 
Josh succeeds Jacob Sackin, who announced his departure in February 2023 after leading ENH for four years. Jacob's leadership has been instrumental in guiding ENH through the pandemic, opening a new site, restarting the program, and creating a new garden at our Sempervirens site.
"I have a passion for the natural world that was fostered growing up at the residential summer camp where my mom held various positions, including camp director. This role brings me back to my roots and allows me to bring my professional skills to a field to which I have a deep personal connection. I am beyond excited to work with ENH's board, staff, and partners to continue providing transformative outdoor school experiences for youth in the greater San Francisco and Monterey Bay Areas."
–Joshua Lanam, Exploring New Horizons Executive Director
"We are delighted to welcome Josh as the new Executive Director of Exploring New Horizons. Today the organization stands at a pivotal point, having successfully re-opened our programs at a new location and increased the diversity and reach for our programs. I am confident that Josh will be able to guide ENH over the coming years to increase our impact, serve even more students and keep offering that unique ENH outdoor school experience that students and teachers have loved for decades."
–Katherine Baird, Exploring New Horizons Board President